News


< Back
Governance : Technology : Enterprise Architecture :
HOPEX Platform Solves Enterprise Complexity Challenges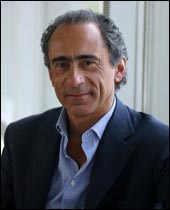 Lucio de Risi
President and CEO
Mega


MEGA has released a new version of its HOPEX platform, with advanced productivity and collaboration features, to meet enterprise transformation and governance challenges faced by the Global 2000.

HOPEX powers MEGA's broad range of integrated software solutions that help organizations meet complex, interconnected needs and achieve effective enterprise governance. The MEGA approach offers companies a way to innovate through digital transformation and improve performance through efficient corporate governance.

With HOPEX and the solutions built upon it, MEGA has taken a bold step outside of the traditional enterprise architecture (EA), portfolio management and governance, risk and compliance (GRC) domains. It is the only company serving all three markets with integrated solutions that eliminate silos of effort and information and reduce the barriers to enterprise transformation. The alternatives to MEGA's approach are proprietary products that require complex architectures, unintegrated solutions with fragile interfaces that often fail, or individuals and teams continuing to work separately in their single domain.

"A unified platform enables an organization to facilitate change management across typically separate EA and GRC programs. It delivers value, aligns with core business strategy and objectives, and drives operational performance gains," according to Michael Rasmussen, founder of GRC 20/20 Research.

MEGA has been helping organizations manage enterprise complexity and business transformation for more than 20 years. Customers include Aetna, Banque Accord, HCL, Johnson & Johnson, Nissan, Procter & Gamble, Starwood Hotels, Swiss Federal Railways, UniCredit Group and Walgreens.

"HOPEX-based solutions will aid executives and managers in complex organizations in understanding the big picture across their entire enterprise. Our approach helps them clarify business and IT goals, design effective strategies and manage transformation programs in spite of business complexity," explained Lucio de Risi, CEO, MEGA.

MEGA solutions act much like a business GPS by delivering a single view of the organization to help navigate change. The business GPS shows where the company is, where it wants go, what route or alternates to follow, and how to manage risks and detours along the way.

With the new capabilities in collaboration and productivity, MEGA has created new standards for depth and ease-of-use in enterprise governance software.

The new capabilities include:
Productivity: instant reporting is easier, faster and more thorough with new display and drill-down capabilities, matrixes, heat maps and customizable exports for office automation.
Collaboration Manager: social media features of instant messaging and collaborative walls facilitate innovation, as well as fast and effective communications. Multiple users can work on the same model simultaneously, much like people in a conference room sharing a whiteboard at the same time.
Customization:

Terminology Management helps users converge on terms to minimize confusion or redefinition, especially with terms specific to certain frameworks. One person might call it a rock; another a stone. With this feature, they can understand when different terms mean the same item.
Report Studio allows users to create report templates through easy-to-use drag-and-drop functions, with minimal effort.
Viewpoint Administration lets viewpoints be defined to split repository content corresponding to roles and provides a simple, efficient way to customize user interfaces.

Web-based Diagramming makes it easy to manage graphical design and representation, and customize diagrams in terms of color, size, graphical objects, and more, for business-oriented communication.

MEGA has been cited in numerous analyst reports on enterprise governance, including EA and GRC topics. The company won the 2013 GRC Technology Innovator Award from GRC 20/20 Research. Gartner Inc. has named MEGA as a leader in its EA Magic Quadrant reports for five consecutive years and the company has been noted in research by Forrester Research, Inc.





Advertise your product/service here!