News


< Back
Governance : GRC Platforms : Mega :
Helping Companies Manage Transformation

MEGA Introduces Business Architecture, Information Architecture Solutions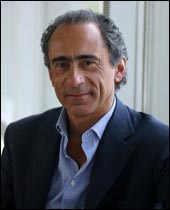 Lucio de Risi
President and CEO
Mega


MEGA has introduced two new solutions to help Global 2000 companies succeed with business and digital transformation initiatives.

"Technology has played a major role in changing the way companies conduct business, such as with the rapid rise of mobile communications and social media. It is essential for companies to be able to dynamically adapt strategy to these types of fast-changing conditions."

The HOPEX Business Architecture Solution provides a rich source of information to strategists and business stakeholders to aid in innovation management and enterprise transformation decisions.

The HOPEX Information Architecture Solution provides timely, high-quality information to help organizations manage information and data as an asset.

More and more companies are engaging in enterprise transformation by instituting fundamental changes to their target operating model, moving into different markets or evolving products and services to meet the demands of today's business environment.

These new MEGA solutions help organizations align business capabilities, processes, people, information and technology investments more closely with the company's goals and strategy, and adjust quickly to fluctuating business situations.

"The complexity of business today often hampers the ability of companies to anticipate and react quickly to market changes or opportunities," explained Lucio de Risi, CEO, MEGA. "Technology has played a major role in changing the way companies conduct business, such as with the rapid rise of mobile communications and social media. It is essential for companies to be able to dynamically adapt strategy to these types of fast-changing conditions."

HOPEX Business Architecture helps companies plan business transformations using scenario-based analysis to ensure that execution aligns with strategy create an enterprise-wide understanding of how operations fit with objectives and demands by building a blueprint of its current and target operating models monitor the evolution of and govern organizational transformation.

The solution is used by business architects to collect, represent and communicate business context, strategy and a strategic roadmap. It provides deliverables such as SWOT analysis and capability maps, as well as plans and assessments that help stakeholders choose the organization's primary directions. The enterprise-wide blueprint helps a company determine how tactical demands are aligned with strategic objectives, and how IT resources are aligned with operations. It also provides useful links with program and risk management activities, as well as the measurement of business process performance and risk and control assessment.

Unlike point solutions, MEGA's Business Architecture solution integrates with the company's Enterprise Risk Management and Information Architecture solutions, ensuring that architecture and management activities are unified to support decision making based on clear and complete information.

HOPEX Information Architecture helps organizations:
manage knowledge and data as an asset and make well-informed decisions about its use across the organization
understand and communicate the company's information model in various business contexts
architect the information to ensure quality and consistency
assess information consistency and reduce departures from proper use
make informed decisions through the timely availability of quality information
"Today's complex corporate environments can submerge a company with multi-layered and multi-channel information circulating between customers, suppliers, partners, regulators and the company's own departments," explained de Risi. "It is a challenge for a company to maintain secure control over enterprise information while also guaranteeing that it is readily available to the individuals and roles that require it."

The solution provides glossaries of terms and dictionaries based on semantic models and is used by information and business architects to understand and share the vocabulary with business and IT stakeholders. It helps measure, analyze and reduce the variation in how different departments, processes and entities use information, and proposes corrective actions to strengthen consistency. MEGA's incremental approach enables companies to start with an initial capture of their business vocabulary and move seamlessly to advanced glossaries. Dictionary views are customizable to enable meaningful navigation from information to data level when relevant. Strong automated reporting capabilities aid in building and circulating the glossaries, term definitions, synonyms and components, and includes translation on demand.

MEGA's Information Architecture solution is integrated with MEGA's IT and Business Architecture solutions to seamlessly encompass information management processes across business and IT layers.

Both solutions are available immediately.

Gartner Inc. has named MEGA as a leader in its EA Magic Quadrant reports for five consecutive years. The company was cited in Gartner's Magic Quadrant for Governance, Risk and Compliance Platforms (September 2013). It was also cited in The Forrester Wave: EA Management Suites, Q2 2013 and The Forrester Wave: Governance, Risk, and Compliance Platforms, Q1 2014. The company won the 2013 GRC Technology Innovator Award from GRC 20/20 Research.

MEGA customers include Aetna, Banque Accord, HCL, Johnson & Johnson, Nissan, Procter & Gamble, Swiss Federal Railways, UniCredit Group and Walgreens.





Advertise your product/service here!