News


< Back
Governance : GRC Platforms : Mega :
MEGA Offers New Tips for Execs to Manage Enterprise Complexity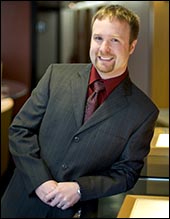 Daniel Hebda
Pice president
Mega


Speakers from MEGA and STA Group, LLC will present the latest thinking in managing change and enterprise complexity to CIOs, CTOs, business strategists and transformation stakeholders at the OMG Executive Breakfast in Boston on June 17.
Success and growth breed complexity in organizations, making it harder to move quickly in new directions²

Daniel Hebda, vice president, MEGA, and Whynde Melaragno, Business Architecture practice director, STA Group, will demonstrate to executives how they can adopt new strategies to make their organizations stronger, more efficient, and more profitable.

Hebda¹s presentation, ŒManaging Enterprise Complexity: Turning Change into a Strategic Opportunity¹, will illustrate how companies are using advanced, integrated software solutions designed specifically for business transformation as the means to take the business digital and navigate through the new landscape.

³Many times, when enterprises encounter obstacles on the way to a goal, the journey gets sidetracked and business teams struggle to get back on course,² noted Hebda. ³However, with MEGA¹s software solutions that act like a business GPS, executives are able to correctly navigate to their objectives, effectively managing unexpected detours or risks along the way.²

Melaragno will speak about ŒCorporate Agility and the New Customer Experience: Are You Ready to Move?¹ In this interactive conversation, she will explore key challenges that executives face today, such as difficulty executing strategy, insufficient collaboration and limited visibility into the entire breadth and depth of the organization.

³Success and growth breed complexity in organizations, making it harder to move quickly in new directions,² explained Melaragno. ³The companies that don¹t move quickly enough to meet customer needs fall behind. In this new digital marketplace, there is an unprecedented need for an organization to transform to meet these new demands.²

MEGA recently introduced a new version of its HOPEX platform with advanced productivity and collaboration features, as well as new software solutions for business architecture and information architecture. HOPEX powers MEGA¹s broad range of integrated software solutions that help organizations meet complex, interconnected needs and achieve effective enterprise governance.
The MEGA approach offers companies a way to innovate through digital transformation and improve performance through efficient corporate governance.

MEGA has been helping organizations manage enterprise complexity and business transformation for more than 20 years. Customers include Aetna, Banque Accord, HCL, Johnson & Johnson, Nissan, Procter & Gamble, Starwood Hotels, Swiss Federal Railways, UniCredit Group and Walgreens.

Gartner Inc. has named MEGA as a leader in its EA Magic Quadrant reports for five consecutive years. The company was cited in Gartner¹s Magic Quadrant for Governance, Risk and Compliance Platforms (September 2013). It was also cited in The Forrester Wave: EA Management Suites, Q2 2013 and The Forrester Wave: Governance, Risk, and Compliance Platforms, Q1 2014. The company won the 2013 GRC Technology Innovator Award from GRC 20/20 Research.





Advertise your product/service here!