Editor's Bookshelf
Inside CEO Succession: The Essential Guide to Leadership Transition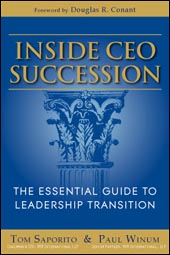 As the demands from stakeholders for consummate leadership and good governance from a company's board of directors, its CEO, and its executive team increase, how the process of CEO succession is carried out has become more critical than ever before.


Aligning Governance and Risk Management
Lucio de Risi
President and CEO
Mega





MEGA will present new options for companies to manage enterprise complexity at the 2014 GRC Conference in Palm Beach, FL August 18-20.




Advertise your product/service here!