Editor's Bookshelf
Inside CEO Succession: The Essential Guide to Leadership Transition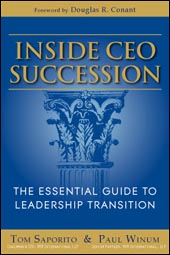 As the demands from stakeholders for consummate leadership and good governance from a company's board of directors, its CEO, and its executive team increase, how the process of CEO succession is carried out has become more critical than ever before.


Is Internal Audit Ready to Step Up?
Richard Chambers
President and CEO
Institute of Internal Auditors





New and complex business challenges, fueled by rapid technological changes, are reshaping views on good governance and emerging risks across a broad spectrum of industries.

Are Baby Boomers Doomed to Irrelevance in the Workplace?
Steve Kayser
Founder
Kayser Media

Boomers may want to recall one of the poets they grew up reading, Dylan Thomas, and his most famous poem, named for its first line, "Do not go gentle into that good night," a desperate appeal to resist the trappings of old age.

People in the News
Departing SDNY Prosecutor Antonia Apps to Join Milbank

Antonia Apps
Partner, Global Litigation Department
Milbank
Milbank, Tweed, Hadley & McCloy announced that Antonia M. Apps, who for the past several years prosecuted some of the highest-profile securities fraud and insider trading cases brought by the U.S. Attorney's Office for the Southern District of New York, is joining the firm as a partner in its Global Litigation Department.

More People in the News > >


Advertise your product/service here!