Editor's Bookshelf
Inside CEO Succession: The Essential Guide to Leadership Transition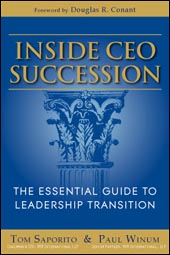 As the demands from stakeholders for consummate leadership and good governance from a company's board of directors, its CEO, and its executive team increase, how the process of CEO succession is carried out has become more critical than ever before.


Intellicheck Mobilisa Expands Agreement with Major U.S. Supermarket
Nelson Ludlow
CEO
Intellicheck Mobilisa





Intellicheck Mobilisa, Inc. (NYSE MKT:IDN), a global leader in identity solutions and wireless security systems, has expanded its agreement with a major U.S. supermarket chain to provide driver's license scanners for kiosks operated as part of the chain's customer rewards program.

Seven Ways to Bridge the Great Divide
Rich Karlgaard
Publisher
Forbes

Behind closed doors, in the corner offices of companies throughout the nation, a heated C-suite battle rages on. On the surface it looks like a battle waged over the corporate budget—a tale as old as time—with both sides seeking to claim a bigger portion of the pie.

People in the News
Departing SDNY Prosecutor Antonia Apps to Join Milbank

Antonia Apps
Partner, Global Litigation Department
Milbank
Milbank, Tweed, Hadley & McCloy announced that Antonia M. Apps, who for the past several years prosecuted some of the highest-profile securities fraud and insider trading cases brought by the U.S. Attorney's Office for the Southern District of New York, is joining the firm as a partner in its Global Litigation Department.

More People in the News > >


Advertise your product/service here!