Editor's Bookshelf
Inside CEO Succession: The Essential Guide to Leadership Transition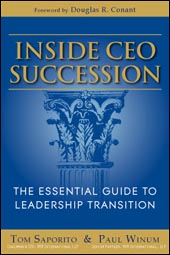 As the demands from stakeholders for consummate leadership and good governance from a company's board of directors, its CEO, and its executive team increase, how the process of CEO succession is carried out has become more critical than ever before.


Both Startups and Established Companies Will Drive Growth
William Jennings
Partner-in-Charge, Real Estate Group
Marks Paneth





The technology sector is about to spark a boom in New York City commercial leasing, according to a survey of 100 top-level New York City real estate executives, including owners, brokers, agents, engineers, and accountants and lawyers specializing in the space.

Enhancing Our Equity Market Structure
Mary Jo White
Chair
Securities and Exchange Commission

During my first year as Chair, not surprisingly, I have heard a wide range of perspectives on equity market structure, reflecting its inherent complexity, the relationships among many core issues, as well as the different business models of market participants.

People in the News
Departing SDNY Prosecutor Antonia Apps to Join Milbank

Antonia Apps
Partner, Global Litigation Department
Milbank
Milbank, Tweed, Hadley & McCloy announced that Antonia M. Apps, who for the past several years prosecuted some of the highest-profile securities fraud and insider trading cases brought by the U.S. Attorney's Office for the Southern District of New York, is joining the firm as a partner in its Global Litigation Department.

More People in the News > >


Advertise your product/service here!