Editor's Bookshelf
Inside CEO Succession: The Essential Guide to Leadership Transition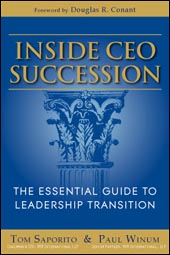 As the demands from stakeholders for consummate leadership and good governance from a company's board of directors, its CEO, and its executive team increase, how the process of CEO succession is carried out has become more critical than ever before.



A Few Things Directors Should Know About the SEC
Mary Jo White
Chair
Securities and Exchange Commission

Thank you very much for that kind introduction. I am honored to be here tonight before this audience to talk about a few of the many things that directors should know about the SEC.

People in the News
Paul Rowady Promoted at TABB Group

Paul Rowady
Principal, Head of Research for New Data & Analytics IT Practice
TABB Group
TABB Group has promoted Paul Rowady to principal, head of research for the capital markets research and consulting firm's new Research Alliance Data & Analytics (DnA) IT practice.

More People in the News > >


Advertise your product/service here!