Editor's Bookshelf
Inside CEO Succession: The Essential Guide to Leadership Transition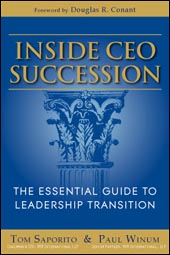 As the demands from stakeholders for consummate leadership and good governance from a company's board of directors, its CEO, and its executive team increase, how the process of CEO succession is carried out has become more critical than ever before.


Secure Next Generation Content





Cryptography Research, the security division of Rambus and Entropic a world leader in semiconductor solutions for the connected home, has announced they have signed a patent license agreement allowing for the use of the Cryptography Research side-channel attack countermeasures in Entropic's integrated circuits.

Seven Ways to Bridge the Great Divide
Rich Karlgaard
Publisher
Forbes

Behind closed doors, in the corner offices of companies throughout the nation, a heated C-suite battle rages on. On the surface it looks like a battle waged over the corporate budget—a tale as old as time—with both sides seeking to claim a bigger portion of the pie.

People in the News
WeiserMazars Expands GRC Practice Through Merger

Douglas A. Phillips
Managing Partner,
WeiserMazars
WeiserMazars LLP, a leading accounting, tax and advisory services firm, has announced the completion of its merger with ICS Consulting Partners (ICS), a boutique internal audit, regulatory compliance and credit risk management consulting firm catering to the banking industry.

More People in the News > >


Advertise your product/service here!