Editor's Bookshelf
Inside CEO Succession: The Essential Guide to Leadership Transition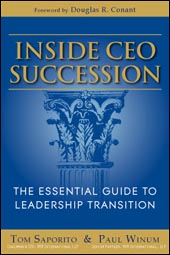 As the demands from stakeholders for consummate leadership and good governance from a company's board of directors, its CEO, and its executive team increase, how the process of CEO succession is carried out has become more critical than ever before.



Are Baby Boomers Doomed to Irrelevance in the Workplace?
Steve Kayser
Founder
Kayser Media

Boomers may want to recall one of the poets they grew up reading, Dylan Thomas, and his most famous poem, named for its first line, "Do not go gentle into that good night," a desperate appeal to resist the trappings of old age.

People in the News
WeiserMazars Expands GRC Practice Through Merger

Douglas A. Phillips
Managing Partner,
WeiserMazars
WeiserMazars LLP, a leading accounting, tax and advisory services firm, has announced the completion of its merger with ICS Consulting Partners (ICS), a boutique internal audit, regulatory compliance and credit risk management consulting firm catering to the banking industry.

More People in the News > >


Advertise your product/service here!